STORM's FUEL SAVING PRODUCTS
PowerCodeTM — as a fuel booster & activator
"Magic Fuel Booster" is a unique fuel saving product for every kind of fuel: diesel, gasoline/petrol, and all bio─diesels. Developed by Ingo Storm's Laboratory, Germany this powerful product comes with the precision and quality for which German technology is well known, and is produced in Malaysia and Japan by STORM's RESEARCH LABS.

The properties of the FUEL BOOSTER

5ml of highly ionized fuel works as an initiator of the fuel's converting reaction that in a few hours completely ionizes the fuel content within the vehicle's fuel tank, converting conventional fuel of EVERY TYPE into an excellent quality fuel that burns cleanly, releases energy to its fullest potential and produces minimal exhaust gases with less CO— and unburned carbon's contents. This makes your engine stay cleaner and produces energy in the same quantity as the fuel itself, saving up to 30% of the fuel's consumption while driving.

READ MORE ABOUT

. —

HOW 2 USE (40MB video)

: US$ 59.00 ┃ EUR 50.00 ┃ INCRAM┃USDT 59
---
MagicWater TM — our main fuel saver !
The MagicWaterTM for all lead-sulfide batteries

ENVIROMENTAL IMPLICATONS– REJUVENATE, NOT DISCARD
or the car battery – as the World population killer !

The World car market consume hundreds millions automotive lead–aside batteries each year and each battery often has a life span of between 15 to 24 months. These batteries contribute to over billion kilograms of lead pollution per year! Lead is a serious contaminant which can cause neurological damage, renal disease, cardiovascular ailments and even reproductive problems. With the use of "

Magic Water TM

old automobile batteries can be rejuvenated giving them lengthened service life and

BETTER ENGINE PERFORMANCE

–

WE DO GUARANTEE THAT

!

READ MORE ABOUT

" .

: US$ 149.00 ┃ EUR 130.00 ┃ INCRAM┃USDT.149
---
CoolWaterTM as Fuel Saver & Car' Paint Protector
new & unique high–tech product, that creat the: reflecting of infra–red sun–radiation (iR) that keep your car inside collier even by strong sun.
Apply the product once for 10 years, not need re–polish or sealing any more. The effect helps to save water use by washing, and even stop wash the car for months !

Samples of the "CoolWater TM" effect:





easy to apply and contribute to "net zero"

PURCHASE STORM's Net─Zero PRODUCTS
---
HyperCoolTM – aerospace technology for cool engine !
HyperCoolTM is a product from German aerospace research and is developed to accelerate the temperature (energy) transfer from the combustion chamber to the cooling system, – the radiator (heat–exchanger). Even the water have problem to move — the HyperCoolTM create an effect to transfer the heat by infrared transfer. This effect additionally and surely protect the engine against eventual and(or) suddenly head jam and stop of heat transfer. The HyperCoolTM protect the engine against overheating in extreme situation, like traffic jam or to hot weather. Additionally the HyperCoolTM recover the water pipe from inside and secure the radiator function. The HyperCoolTM is absolutely MUST for a hot countries and cities with heavy car traffic.

HyperCool — intelligente Reinstallation von Kuhlingseigenschaften eines Radiators! (in German)

: US$ 59.00 ┃ EUR 40.00 ┃ 50 ┃ USDT.50
---
PowerCodingTM as an ultimate 1 Million KM for Every Engine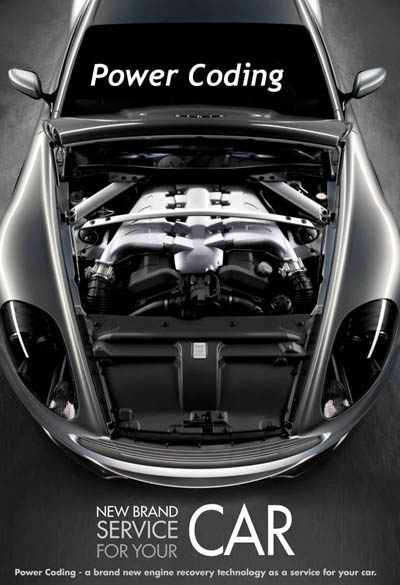 : US$500.00*
EUR 375.00*


500 ┃ USDT.500
---
*All prices based on a 2000 cc engine volume, in an
average condition
.
---
HOW IT WORKS! ┃ Engine Recover — how to... (problem solving)


---
PowerCodingTM for Automatic Transmission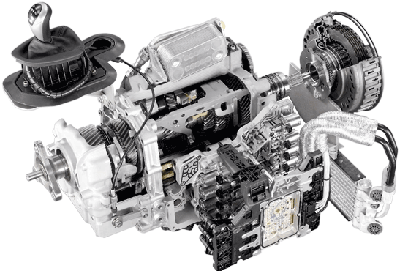 Transmission problem...? — try the gearbox recovery..!

---
CoolTyreTM — that save fuel and costs!
These tires (tyres) are completely optimized to save fuel, that is there main priority, well besides being safe. They are around the same price as a normal tire would cost, so why not get these next time you replace your tires? It requires no investment, since cars need new tires anyways, so you really have nothing to lose by buying these. Next time you are getting your tires changed, you should definitely consider fuel saving tires.
Goodyear advertises their
Assurance FuelMax tires will provide up to 4 percent more fuel efficiency
than standard tires. It chronicled how economy driving F1 champions squeezed out an additional 9 miles per gallon just by switching to a set of Goodyear Assurance FuelMax tires.
Well agree, – looks here the experiment with the "
Silverstone vs CONTi (Continental) tyres
in a real life!"
A Mitsubishi L200 (
STORM
) has recordered an additional 40 miles (by 400 miles totally) per gallon just by switching to a set of CONTi CoolTyre protected tires. It's still over 10% more miles. The Conti tires was protected with an advanced STORM's technology, –
HyperTyre
TM
– the concept for fuel saving with/by ionizing the tire's material or surface – save fuel up to 19% !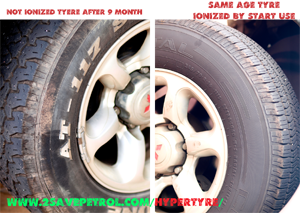 Tires are the main source of rolling resistance so the choice of design, construction and materials used in the tires as well as tire maintenance and operating conditions is key to tire longevity and gas efficiency.
– "CoolTyre" change the tyre's material property for get more UV– and hit–protection, this protects the tires against wear and losing the original elasticity done (created) by production the tyre.
---
HyperSealTM Valve Sealing Ring – Small Part But Big Problem!
There are few components in an engine that can invisible make serious trouble, — one of it the valve's sealing ring. The trouble may be – the
lost oil
,
white smock
or
lost even engine's power
and
performance
.
Because in some engines to change the ring is a lot of job, the mechanics don't suggest do it at the right time, and the problem becomes bigger.
There is a solution and a technology that make the problem disappear for a long time, at least for 10 times later then expected.
Apply our innovative HyperSealTM technology new valve ring become protected against mechanical, chemical and thermo–abrasions and ┃ or destruction. Especially will the valve ring protected against chemical decomposition by high sulfur content in the fuels.
Well: the valve ring is a small and cheap part of an engine, but cost a lot if You need change it, and even few other parts that was failure because of that thing.
HyperSealTM is a brand of STORM's Research Labs. and the product has 500K km mobility guaranty!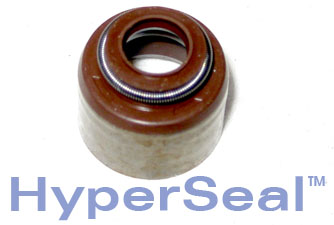 Damage free technology HyperSeal TM
This an unique innovative
HyperSeal
TM
technology allow to make the seals on the crankshaft/camshaft (
Kurbelwelle/Nockenwelle
) works forever! This is so called a
damage free technology
with guaranty! We do makes the gaskets to seal the crankshaft / camshaft and the other rubber–made spinning parts damage–free — that can do them to no–wear (
damage–free
) and super–slippery with extremely low friction. This technology we transfer to the crankshaft / camshaft producers as a production's license as well!